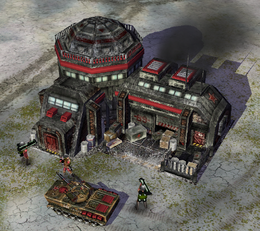 Weapons Bunker
Unit
Affiliation
Role

Tier-One Technology Facility

Protection

Structure Armor

Production
Cost

1000

Requires
Function
Power

-3

Abilities

Launch Surveillance Missile
Weapons Bunker
Unit
Protection

Structure Armor

Function
Abilities

- Leaves behind bunker
when destroyed
The tier-one technology building of the Russian Federation, this building could also launch a surveillance missile to a target location, providing information on the battlefield it passes.
These specialized bunkers of the Russian Federation houses some of the latest grunt weaponry a mere Russian conscript could ever think of; IR Goggles, larger magazines, health medkits and the ominous Thermobaric bombs used on Hunchback helicopters.
Ad blocker interference detected!
Wikia is a free-to-use site that makes money from advertising. We have a modified experience for viewers using ad blockers

Wikia is not accessible if you've made further modifications. Remove the custom ad blocker rule(s) and the page will load as expected.