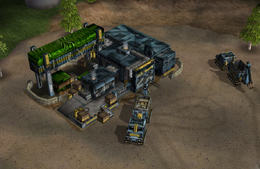 Supply Yard

Coordinating Logistics...
Unit
Affiliation
Role

Supply Gathering Building

Protection

Structure armor

Tier

0

Production
Requires

None

Function
Power

-1

Produces
Supply Yard
Unit
Protection

Structure Armor
This structure is used to produce Supply Tracks that gather Supplies and return them to this building.
Lore
Quick deployability across the entirety of its territory has been one of the main strategic benchmarks of the European Continental Army since its creation in 2034. As such, the multinational task force utilizes a wide array of structures that consist of pre-fabricated containers and building elements, allowing European forces to set up shop on the battlefield and become fully operational as quickly as possible. The Supply Yard is one of these structures, acting as a central drop-off point for military supply units and civilian logistics contractors whose equipment and manpower have been drafted to support the war effort. After all, any armed force in the world is only as capable as its logistics branch.
Structure Description
It is the building where your Supply Tracks could unload their cargo of supplies. The ECA has the advantage of being able to build their supply gathering building much faster than other faction, due in part to not requiring to build a power plant first, much like the GLA.
Ad blocker interference detected!
Wikia is a free-to-use site that makes money from advertising. We have a modified experience for viewers using ad blockers

Wikia is not accessible if you've made further modifications. Remove the custom ad blocker rule(s) and the page will load as expected.