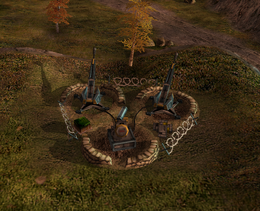 Skyshield Battery
Unit
Affiliation
Role

Anti-Air

Armament

2 175mm Canister Guns (1x45 5mm Parabellum)

Protection

Med-heavy

Tier

0

Production
Cost

1200

Build time

00:15

Produced by
Hotkey

Y

Function
Power

-4

Notes

- Cannot attack ground units
Skyshield Battery
Unit
Protection

Structure Armor

Function
Upgrades
The Skyshield Battery is the main anti-aircraft stationary defense used by the European Continental Alliance.
Lore
The Sky Shield is a light-weight short range air defence system of Swiss and German origin. The central piece of a battery is the highly advanced fire control radar which can autonomously detect and track airborne targets. The moment an enemy aircraft moves into range, it will be greeted by the two 35mm guns that fire a special programmable round marketed as the 'Birdshot' for its ability to burst into a wave of shrapnel in front of the target, causing catastrophic damage to even the most heavily armoured airframes within seconds.
Structure Description
A base defense with dual anti-aircraft guns with decent weapon range and a fast rate of fire (but not so as fast the Gatling cannon), and it deals medium damage, but the Skyshields also does splash damage for each strike, thanks to the canister rounds. Skyshields are incapable of targeting ground units since being an anti-air base defense. Like many other base defenses, it is vulnerable against artillery weaponry and requires aircraft protection against artillery. These defenses don't deal much damage against fast aircraft so it is recommended to build more of 2 defenses of this type. It is best used against helicopters, since they are slower than jet aircraft.
Trivia
Prior to 1.8.0.2, the Skyshield Battery had three guns instead of two, but the number was reduced for balance reasons.
Ad blocker interference detected!
Wikia is a free-to-use site that makes money from advertising. We have a modified experience for viewers using ad blockers

Wikia is not accessible if you've made further modifications. Remove the custom ad blocker rule(s) and the page will load as expected.