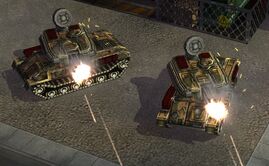 Shilka

"Look at this thing, it has four guns!"
Unit
Affiliation
Role

Anti-air
Anti-infantry

Armament

4 × 23 mm AA autocannon

Production
Cost

None

Requires
Notes

Available only via Armor Reserves
Initially unmanned
Shilka
Function
Abilities

Use Smoke Grenades
The Shilka is a light anti-aircraft unit in service of the Russian Federation. It is currently only available through the Russian Armour Reserves General Power.
Introduced in the early 1960s, the ZSU-23-4, named after its armament of four 23mm anti-aircraft cannons and more commonly known as the Shilka, has been refurbished in a last ditch effort to maximize the combat capabilities of Russia's Tank Reserves alongside the Rhino Tank and the BRDM-2.
Unit Description
Edit
Initially, the Shilka is unmanned when dropped via a General's power, along with Rhino and BRDM.
This vehicle still has its own effectiveness, however, not powerful as the Tunguska in terms of firepower. But it can be useful at your disposal, with its autocannon, it can take down helicopters and infantry with ease especially en masse.
With its cannon, somehow it is effective against structures though it is slightly, unlike it's counterpart. When in altogether, will surely bring down the structures quite faster.
Ad blocker interference detected!
Wikia is a free-to-use site that makes money from advertising. We have a modified experience for viewers using ad blockers

Wikia is not accessible if you've made further modifications. Remove the custom ad blocker rule(s) and the page will load as expected.