NOTICE:::THIS PAGE IS CURRENTLY UNDERGOING WORK TO ENSURE CLARITY AND ACCURACY
        THIS PAGE WILL BE DIVIDED INTO FURTHER PAGES
        THIS IS WHAT A PAGE DONE CORRECTLY SHOULD APPEAR AS: EXAMPLE 

This page is to be Used as a template for all pages to be based off of, and existing pages to be upgraded to. For information on Formatting and how to set up links/maintain a set standard, please view Formatting & Technical Info.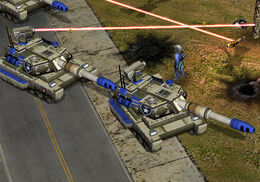 This area at the top of the screen is where a short 1-3 sentence summary of the unit is put. This section should be above the Unit-box. An in-game quote can be placed above this summary. EXAMPLE
Ex: The heavy tank of Tank Command General Bradley, the M1A4 Paladin sports greater firepower and better armor compared to the Crusader tank. With a 120mm ramjet-assisted cannon that can punch through armor and buildings, a point defense laser for anti-missile and anti-infantry work, and tough composite armor, the Paladin is perhaps one of the most survivable tanks in the world.
Name of the Item

Item Render goes here, generally unit qoute under image.
Unit
Affiliation

What Faction the unit belongs to

Base unit

currently unsupported on wiki

Role

Unit strengths

Tier

what tier level is required to create unit

Properties
Hit points

currently unsupported on wiki

Armament

optional, what weapons item uses in lore

Protection

optional, what armor item uses in lore

Armor type

currently unsupported on wiki

Transport slots

number of units that can be held within item

Amphibious

whether item can move through water, not applicable to aircraft or structres

Production
Cost

Monetary cost to create item

Build time

amount of time unit is in creation

Produced by

item that creates this item

Requires

structures, upgrades GPs and anything else required for unit to be able to be created

Hot key

Hotkey for quening item for creation

Combat
Squad size

currently unsupported on wiki

Ground attack

currently unsupported on wiki

Air attack

currently unsupported on wiki

Cooldown

time required for item to be created or used again

Speed

currently unsupported on wiki

Attack range

max distance that item can engage targets

Sight range

max radius Fog of War is revealed by item

Function
Power

How much power does the structure use or produce (+ for power producing structures, - for power using structures)

Produces

items the item produces (ex: Vehicles, Aircraft)

Allows

items the item allows to happen

Upgrades to

currently not supported by the mod

Research

Research the item can complete

Elite ability

unsupported by wiki

Notes
Item Upgrades

Unit Cameo goes here. Quote in description
Function
Upgrades

any upgrades that apply to the item

Abilities

item's abilities
This section is where back-story/history of the item is placed. This can often be found in the news section of the SWR Forums or ModDB page.
Unit description
Edit
This section is where information on what the item does, how it can be upgraded, etc. This is generally written in paragraph form, and is more creatively written.
Ex: The heaviest, most advanced tank in the United States arsenal, the M1A4 Paladin is a highly survivable, well armed main battle tank. The Paladin's main gun makes it effective against armored vehicles and structures, and its composite armor is more resilient than that of the Crusader, but its true strength lies in its point defense laser, which can neutralize all manner of missiles and kill enemy infantry that get too close for comfort.
Like all US vehicles, each Paladin can be individually upgraded with Battle Drones or Targeteer Drones. Also, when a veteran Paladin is destroyed, its experienced pilot will escape the vehicle relatively unharmed and can enter another US vehicle to boost that vehicle's veterancy.
The Paladin's already robust armor can be increased by 25% against all damage types with the Composite Armor upgrade, making it capable of going toe to toe against the heaviest of vehicles fielded by other factions. The Advanced Training upgrade allows it to gain veterancy at a much faster rate.
Section with information on how to use the item effectively. EXAMPLE
Section with information on how to defeat the item. EXAMPLE
Information on the item unconnected to the lore or item in-game. EXAMPLE
Ex: In real life, there is an American vehicle called the Paladin. However, it is a self propelled howitzer, unlike the in-game Paladin Tank.
With the wiki's expanding goals, it is important that all information is accurate. This can be ensured by linking the lore sections to the source of the information, generally from the ModDB page, or the SWR forums. Anything from Mars is to be considered canon, and override anything previously put in the lore sections.
For build times, it is important that all data is taken from the game, while running at 30 frames per second, the game's default rate.
Ad blocker interference detected!
Wikia is a free-to-use site that makes money from advertising. We have a modified experience for viewers using ad blockers

Wikia is not accessible if you've made further modifications. Remove the custom ad blocker rule(s) and the page will load as expected.