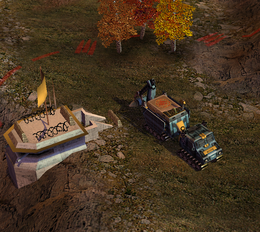 Munitions Track
Unit
Affiliation
Role

Vehicle Support

Armament

Unarmed

Properties
Amphibious

No

Production
Cost

800

Build time

0:13

Produced by
Munitions Track
Function
Upgrades
Munitions Tracks are variants of the Supply Tracks used by the European Continental Alliance which had their supply gathering capability removed in favor of carrying a big reserve of ammo that boosts nearby vehicles' firepower.
Throughout the European War, ECA commanders found that ammo shortage could become a serious concern if vehicle convoys were ambushed by Russian tanks. As a result, some commanders began refitting some of their Supply Tracks into ammunition-carrying support vehicles, dubbed Munitions Tracks. These proved useful in supplying nearby tanks with ammunition reserves as well as a much needed boost in firepower. To further increase their usefulness Munitions Tracks were also fitted with Chaff grenades to deflect incoming missiles. However, as a side effect the vehicle's volatile cargo does not react well to being fired upon, resulting in a dangerous explosion upon its destruction.
Description
Edit
Coming Soon...
Ad blocker interference detected!
Wikia is a free-to-use site that makes money from advertising. We have a modified experience for viewers using ad blockers

Wikia is not accessible if you've made further modifications. Remove the custom ad blocker rule(s) and the page will load as expected.