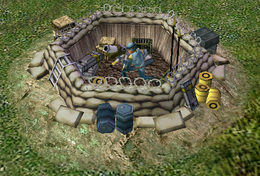 The Mortar Pit is a basic ECA defense structure capable of bombarding enemies from an impressive distance.
Mortar Pit Overview
Unit
Affiliation
Role

Mortar Position

Tier

2

Production
Cost

1000

Build time

0:20

Requires
Function
Power

-1
Mortar Pit
Properties
Protection

Structure Armor

Function
Upgrades
Abilities

- Explosive Mortars
- Tear Gas Mortars
(requires Prepared Defences
Generals Power)
Whilst not perfectly accurate, these dug-in 81mm infantry mortars make a useful addition to any defensive perimeter. Their high-explosive shells have good range and can be fired in fast succession and even though they cannot reliably defeat fast or well-armored targets, they are nevertheless capable of decimating enemy troop concentrations as they gather in front of the line, smashing holes into their ranks well before the actual assault and prompting the attacker into fast, possibly miscalculated moves that may foil his entire plan.
Structure Description
Edit
As it name suggests, it is a sunken pit covered with sandbags that sports a single mortar. Although boasting significant range, it cannot effectively hit highly mobile targets. However, this base defense's full capability can be seen during a massive tank or infantry rush and against low tier enemy artillery. It can also benefit from the Cluster Munitions upgrade.
If the Prepared Defenses generals power is unlocked, the Mortar Pits gain the ability to switch their default explosive mortars with tear gas mortars. The tear gas rounds are non-lethal. Instead these create a cloud of tear gas upon impact which reduces the damage, range and firing rate of enemy units caught in it.
Ad blocker interference detected!
Wikia is a free-to-use site that makes money from advertising. We have a modified experience for viewers using ad blockers

Wikia is not accessible if you've made further modifications. Remove the custom ad blocker rule(s) and the page will load as expected.