Mishka
Unit
Affiliation
Role

Scout
Minesweeper
Stealth Detection

Armament

Gunports (x4)(requires upgrade)

Tier

0

Properties
Transport slots

4

Amphibious

Yes

Production
Cost

400

Build time

0:05

Produced by
Function
Abilities

Clear Mines

Notes

- Can move through minefields unharmed.
Mishka
Function
Upgrades
The Mishka is Russian Federation's scout vehicle as well as their basic minesweeper unit. Its is fast, amphibious and cost efficient - making it ideal for its roles. It also has room for transporting four infantry unit. It can become an effective stealth detector by garrisoning a Conscript in it after the IR Goggles upgrade is researched.
This variant of the Mishka is the Federation's most accessible method of battlefield reconnaissance. Russian Command Bunkers are known for having large numbers ready at their disposal. Getting one onto the field takes mere seconds with every conscript ready and waiting to crew the vehicle.
It comes with transport capacity for four extra passengers, allowing it to be used in special operations in some situations. It also has the ability to remove harmful explosives from the battlefield such as mines, an ability overlooked in the development of the Russian Dozer/Construction Crane. Considering the difference in price between both vehicles and the dangers of such task, it's easy to say the Mishka is a more suitable candidate for the job.
In-game, Mishka is the only amphibious vehicle which could effectively engage aircraft while in water (by garrisoning it with 2 or more Strela Conscript each vehicle), giving effective AA escort for BMP or Golem Tank in formation across water.
Pros and Cons
Edit
Fast
Cheap
Amphibious
Immune to mines
Can transport infantry (when upgraded)
Gains fire-ports (when upgraded)
Completely unarmed
Weak armor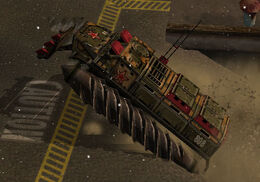 Ad blocker interference detected!
Wikia is a free-to-use site that makes money from advertising. We have a modified experience for viewers using ad blockers

Wikia is not accessible if you've made further modifications. Remove the custom ad blocker rule(s) and the page will load as expected.