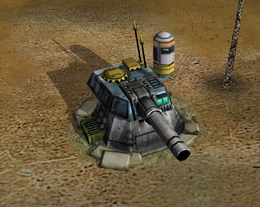 Gun Turret
Unit
Affiliation
Tier

1

Properties
Armament

140mm Armor
Piercing Cannon

Protection

Med-Heavy

Production
Cost

1000

Build time

0:12

Produced by

ECA Excavator

Requires

Solar Reactor

Function
Abilities

Can Switch Between AP Rounds
or Penetrator Rounds
Gun Turret
Properties
Protection

Structure Armor

Function
Upgrades
The Gun Turret is General Willem's specialized anti-armor base defense. It excels at defending against enemy vehicles and has two different types of munitions, one designed to destroy individual vehicles and the other designed to pierce through multiple targets.
This structure is a stationary defence version of a ship turret used on the destroyers of the Royal Netherlands Navy, albeit with an upsized 140mm cannon that excels against tanks. Operated by a highly autonomous fire control computer housed inside the peculiar 'pod' structure, the turret can spot, identify and engage hostile ground vehicles without any human input. The massive cannon is fed by a fully automatic loading system capable of cycling shells at a staggering rate. In addition, the Gun Turret can switch between two types of ammunition: A general purpose anti-tank round and a unique 'Penetrator' round whose core consists of a complex, synthetic material that is harder than diamond, allowing the round to pierce clean through multiple targets along its jet-stabilised flight path and making it more effective against a tightly packed mass of vehicles.
The Gun Turret was modeled after the Brootherhood of Nod's turret from the original Command & Conquer. Infact the build image is the same with the turret textured to look like the ECA model.
Ad blocker interference detected!
Wikia is a free-to-use site that makes money from advertising. We have a modified experience for viewers using ad blockers

Wikia is not accessible if you've made further modifications. Remove the custom ad blocker rule(s) and the page will load as expected.