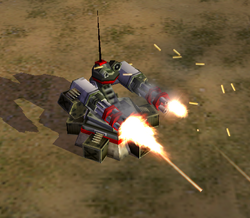 Gatling Cannon
Unit
Affiliation
Role

Anti-Air
Anti-Infantry

Properties
Armament

2x Gatling Guns

Protection

Light

Production
Cost

500

Requires
Hot key

G

Function
Power

-3

Upgrades
Gatling Cannon
Properties
Protection

Structure Armor

Function
Upgrades
The Gatling Cannon is China's anti-air and anti-infantry defensive structure.
China's obsession with Gatling technology is not misplaced; after all, it formed an effective anti-air and anti-infantry defense. As such, the Gatling Cannon is a product of this obsession. Although composed of nothing more than two Gatling guns and and a rudimentary aiming system, this defense is the bane of all infantry and aircraft. Although it has lost its ability to detect stealth units, this weapons system is still a force to be reckoned with.
Structure Description
Edit
The Gatling Cannon is the basic defense of China, buildable after the creation of a Nuclear Reactor. It has two Gatling guns that can be further improved by researching the "Chain Gun" upgrade. It does admirable damage to exposed infantry and aircraft (fixed-wing and helicopters), but performs poorly against armored targets. Moreover, it cannot detect stealth units.
Ad blocker interference detected!
Wikia is a free-to-use site that makes money from advertising. We have a modified experience for viewers using ad blockers

Wikia is not accessible if you've made further modifications. Remove the custom ad blocker rule(s) and the page will load as expected.