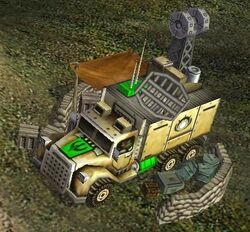 Escalation

Armed for war!
Unit
Affiliation
Role

- Tier 2 unlock

Tier

1

Production
Cost

1000

Build time

0:30

Produced by
Requires
Function
Allows

- Tier 2 GLA units and structures.
The Escalation upgrade was the scrapped unique Tier 2 unlocking upgrade for the GLA researched on the Mobile Command Truck.
Upgrade properties
Edit
The Escalation upgrade unlocks all Tier 2 units and structures for the GLA such as the Scud Storm and BM-21 Grad.
Since the Escalation upgrade is scrapped in version 1.86, GLA must now build Chemical Lab to unlock their Tier 2 units and buildings
Ad blocker interference detected!
Wikia is a free-to-use site that makes money from advertising. We have a modified experience for viewers using ad blockers

Wikia is not accessible if you've made further modifications. Remove the custom ad blocker rule(s) and the page will load as expected.