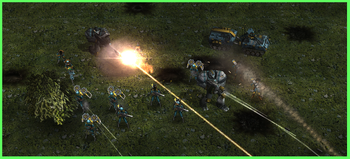 Focusing on infantry warfare improvements, commanders who select the Venom protocol obtain access to a team of special operations personnel each fitted with a different variant of advanced jump-jet capable combat armor. Personnel equipped with back-mounted propulsion packs, granting sustained lift for the occupant to utilize a pair of grenade launchers, are also made available, while select general combatants are fitted with strength improving Exo-skeletons.
Breakdown
Edit
Venom variants [limit: one of each]
Ad blocker interference detected!
Wikia is a free-to-use site that makes money from advertising. We have a modified experience for viewers using ad blockers

Wikia is not accessible if you've made further modifications. Remove the custom ad blocker rule(s) and the page will load as expected.