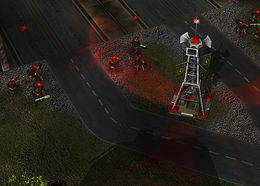 Disruptor Team

They won't get past us!
Unit
Affiliation
Role

Anti-Vehicle

Armament

PF-98 Recoiless Gun

Tier

2

Production
Cost

800

Produced by

Barracks (China)

Requires
Notes

Needs to be deployed first.
Disruptor Team
Function
Upgrades
Abilities

- Switch between EMP and Flak missiles
- Cannot be crushed by vehicles.
"
Distruptor team ready!
- Distruptor Team
"
The Disruptor Team is General Mau's advanced support infantry, Capable of destroying and disabling enemy vehicles from good range.
"
They wont get past us!
- Distruptor team attacking
"
First shown to the PLA Macau garrison in 1999, the PF-98 is a 120mm rocket launcher which was designed to replace the Type 78 and Type 65 recoilless rifles. Thanks to the use of fibreglass materials, the launcher clocks in at only 10 kilograms, making it an ideal anti-tank weapon for the specialists of General Mau. Once deployed, it can be loaded with two types of rockets: One with an armour-piercing flak warhead and the recently developed 'Disruptor' warhead, the most compact EMP weapon in the Chinese arsenal, which can instantly disable even the heaviest vehicles.
Description
Edit
Coming Soon...
Ad blocker interference detected!
Wikia is a free-to-use site that makes money from advertising. We have a modified experience for viewers using ad blockers

Wikia is not accessible if you've made further modifications. Remove the custom ad blocker rule(s) and the page will load as expected.