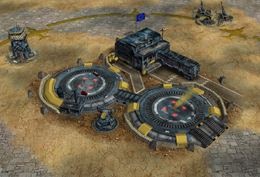 Deployment Zone

Just waiting for the Airlifter
Unit
Affiliation
Role

Aircraft Production Building

Protection

Structure armor

Tier

1

Production
Requires
Function
Produces
Deployment Zone
Unit
Protection

Structure Armor

Function
Abilities

- Repairs nearby aircraft
Although most factions use Air Fields, the ECA uses a Deployment Zone to house its helicopters and VTOL jets. It automatically repairs all nearby aircraft, and also serves as the drop-off point for the Airlifter.
Lore
The European Deployment Zone serves two distinct purposes: Aside from fielding and maintaining the ECA's arsenal of helicopters and VTOLs, it also acts as a central drop-off point for reinforcements that are delivered by an airship. Due to the extreme losses of aerial equipment in the wake of the Russian bombing and missile raids, the ECA's remaining air assets are spread so thin that every front sector can only operate one Deployment Zone at a time, forcing commanders to conserve their aircraft as they can only be produced - and replaced - at a single facility.
Ad blocker interference detected!
Wikia is a free-to-use site that makes money from advertising. We have a modified experience for viewers using ad blockers

Wikia is not accessible if you've made further modifications. Remove the custom ad blocker rule(s) and the page will load as expected.