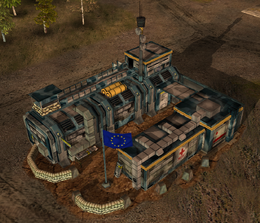 Barracks

Heart of the European Infantry Frontlines
Unit
Affiliation

European Continental Army

Role

ECA Infantry Trainer

Properties
Protection

Structure Armor

Production
Cost

600

Build time

0:10

Function
Produces
Barracks
Properties
Protection

Structure Armor
The ECA Barracks is the main training center and living quarters for the European Infantry
Despite their small dimensions, these pre-fabricated structures contain the most vital facilities for ECA infantry operations, including well protected (if somewhat cramped) living quarters for several soldiers, a sizeable stock of small arms and provisions and an infirmary capable of dealing with all the most common injuries. Since the Europeans often set up their bases in close proximity to the cities they are defending, every Barracks is also equipped with a small, permanently occupied recruitment office in which volunteers can enlist to do their part at any time.
The Actual ECA Barracks model, resemble (in some way) the Soviet Barracks from Red Alert 1.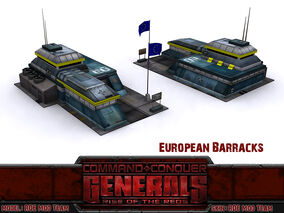 Ad blocker interference detected!
Wikia is a free-to-use site that makes money from advertising. We have a modified experience for viewers using ad blockers

Wikia is not accessible if you've made further modifications. Remove the custom ad blocker rule(s) and the page will load as expected.