Badger Recovery Vehicle
Unit
Affiliation
Role

Vehicle Support

Armament

N/A

Tier

1

Production
Cost

800

Build time

0:15

Produced by

War Factory

Requires

Weapon Bunker
Badger Recovery Vehicle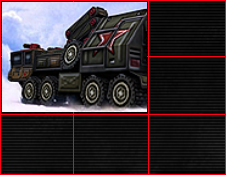 "
You need mechanic?
- Badger Recovery Vehicle
"
The
Badger Recovery Vehicle
is Russia's primary support vehicle deployed to repair damaged vehicles on the battelfield and to recover destroyed vehicle wreckage to restore them to operational condition.
The Russian Army is indeed large in manpower and in resources, but the relatively high costs of front-line units of the Russian Federation made the previous Russian (and Soviet) tactic of simple steamrolling infeasible. Thus, the Russian high command commissioned the production of a dedicate Recovery Vehicle, which was dubbed the Badger. Built with simple tools, in its basic form, it could repair nearby mechanized units. When a special recovery plan is implemented, it allows the Badger to salvage destroyed Russian vehicles with varying degrees of success.
Unit Description
Edit
The Badger Recovery Vehicle repairs vehicles within its repair radius. It provides a valuable support by keeping Russian vehicles operational for longer during their frontal assaults and helps Russian commanders to prolong the lifetime of their expensive vehicles.
Pros and Cons
Edit
Can repair surrounding vehicles
Can recover vehicles wrecks to usable state
Cannot attack
Recovery of vehicle wrecks requires a general point to unlock
Only Russian vehicles wrecks can be recovered
Ad blocker interference detected!
Wikia is a free-to-use site that makes money from advertising. We have a modified experience for viewers using ad blockers

Wikia is not accessible if you've made further modifications. Remove the custom ad blocker rule(s) and the page will load as expected.